News & Events
Scroll down to see Current and Past Art Department Stories:
---
Heather Oelklaus: One of a Kind
July 29 - November 9, 2014
at the Colorado Springs Fine Arts Center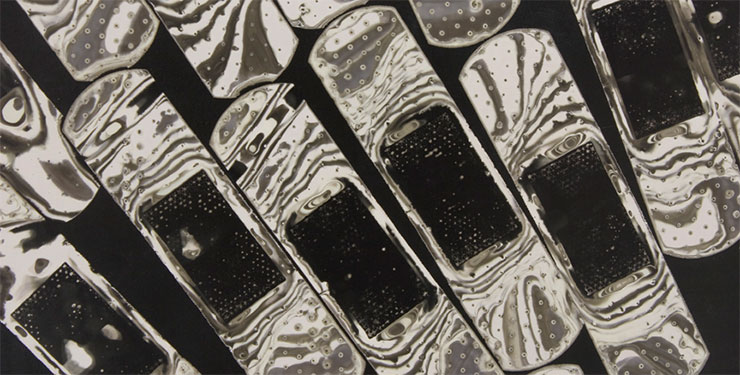 Heather Oelklaus, Heal (detail), 2014, Chemigram, 50 x 51 inches, edition of one, Courtesy of the artist
Colorado Springs-based artist Heather Oelklaus explores her subjects through historic photographic processes. Although Oelklaus employs vintage techniques, many of which date back to the beginnings of photography itself, her compositions frequently speak the language of abstract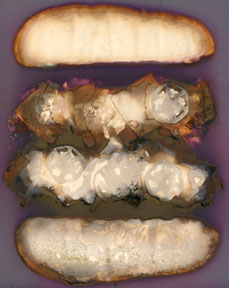 painting or motion pictures. But it is Oelklaus's combination of these extremely difficult technical processes with contemporary subjects and objects that is truly
ONE OF A KIND
The title of the show suggests the singular nature of many of Oelklaus's images. In an era in which most of us understand photography as infinitely reproducible, her photographic works emerge from intensive processes that result in a single original image.
---
Andrew Ramiro Tirado: Open

June 21 - September 28, 2014 at the Colorado Springs Fine Arts Center
For Open, Tirado has made a series of extraordinary large drawings that fill the FAC's magnificent, soaring El Pomar Gallery. The subject is what Tirado describes as one of our "primary tools" for connection and disconnection - the human hand. These exquisitely drafted images represent the hand in all its complex physicality, elegance, power, vulnerability, and expression. But these drawings are just the beginning of an exhibition that unfolds over time - the artist's process will be "open" and visible to viewers as Tirado creates a new, large-scale sculpture in the gallery throughout the show's duration. This is an experience that visitors will want to witness again and again.
See More at the Fine Arts Center Webpage
Andy was also the Top Prize Winner in "Art on the Streets" in Colorado Springs
Andy Tirado in Colorado College News
---
Jean Gumpper Recognized in the Colorado Springs Business Journal
For "depth" and "community presence," among other qualities of her work, Jean Gumpper, Visiting Professor in the Colorado College Art Department, was recently named among the best artists in the Pikes Peak Region.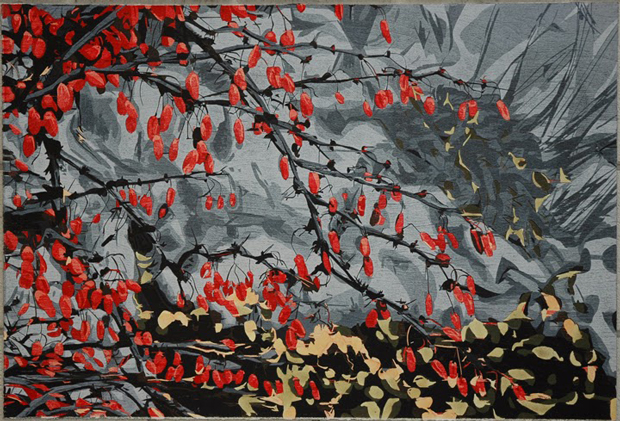 Read John Hazlehurst's article in the Business Journal
---
Artists/Artist Teams Selected for 16th Annual Art on the Streets
2014-2015 exhibit will feature eleven artists including Colorado Springs locals Andy Tirado and Sandy Friedman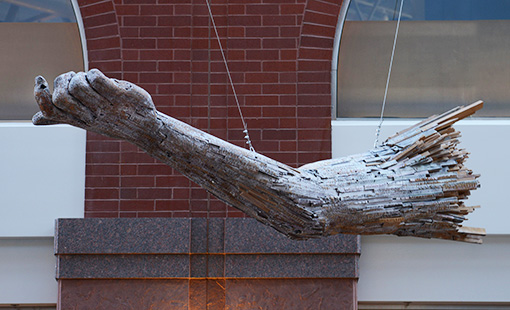 Colorado Springs, CO – Downtown Colorado Springs and Community Ventures are pleased to announce the selection of artists for the 2014-2015 Art on the Streets juried sculpture exhibition. Now in its 16th year, Art on the Streets celebrates the power of art in public places, while turning the streets of downtown Colorado Springs into a yearlong outdoor sculpture gallery.
A national call for artists attracted proposals from artists in four countries, 21 states and 16 Colorado cities. Artists were selected through a jury process in which artistic quality served as the primary criteria. This year's jury included Blake Milteer, Museum Director and Chief Curator for the Colorado Springs Fine Arts Center; local architect Michael Collins, and award-winning visual artist Jimmy Descant. Selected artists each receive a $1,000 honorarium. In addition, artists are eligible for a $10,000 Juror Award and a $1,000 People's Choice Award.
The 2014-2015 exhibit will be on display June 2014 through May 2015 throughout Downtown Colorado Springs. The eleven artists selected for the exhibit are:
Dee Briggs, Pittsburgh, PA
Timothy D. Cassidy, New York Mills, MN
Steven Durow, Fruitland, MD
Atomic Elroy, Petaluma, CA
Sandy Friedman, Colorado Springs, CO
Steven Huffman, Ottumwa, IA
Suzanne Kane, Las Cruces, NM
James Alan Murray, South Portland, ME
Michael Shewmaker, Hilo, HI
Andrew Tirado, Colorado Springs, CO
Adina Ana Vomisescu and Juliana Morar, Toronto, Canada
Art on the Streets is a program of Downtown Colorado Springs, through Community Ventures, Inc. The program is supported entirely by private contributions, including founding sponsor U.S. Bank, with additional support from Colorado Creative Industries, Boettcher Foundation, and many other corporate and individual donors. All of the artwork in the exhibit is for sale, and purchase inquiries are welcome.
---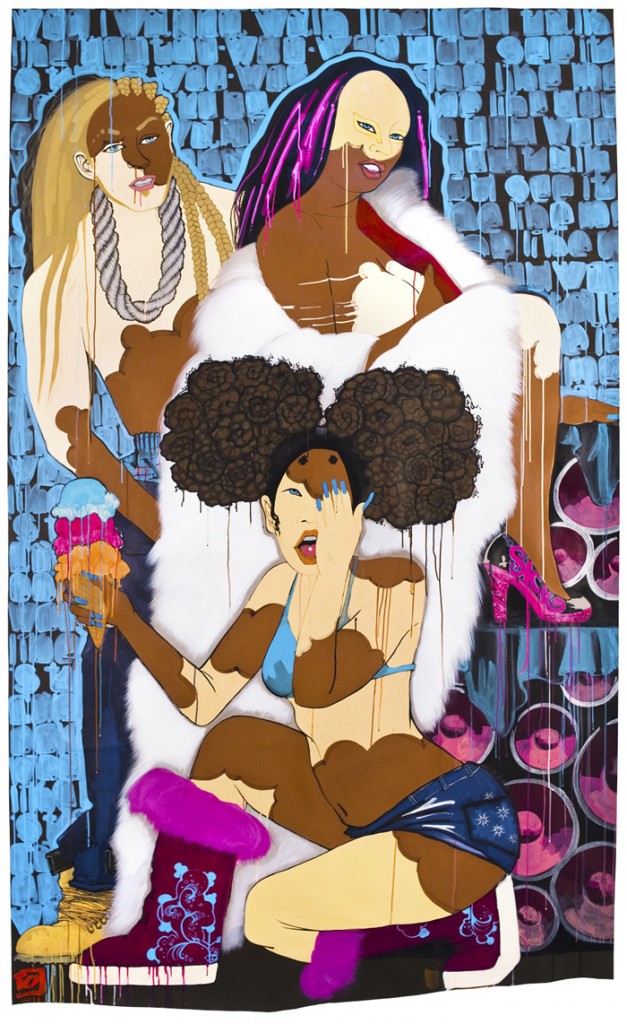 Opening reception for exhibition and Panel Discussion with exhibition artists and CC faculty. Includes performance by students from From Fringe to Spotlight, taught by professor Idris Goodwin.
From its roots within the urban American experience of the 1960-70s, contemporary hip-hop culture has evolved into an expressive language that transcends cultural and national boundaries. Formerly subversive modes of expression, such as graffiti, rap, appropriation, and breakdancing have now become flexible strategies for personal and political communication that spans all racial, national, and economic groups. From March 24 – May 8 2014 Colorado College will explore the ways in which the hip hop strategies of remix, mash-up, appropriation, and protest allow for the creation of new cultural hybrids within the shifting terrains of the mainstream. The project will include a gallery exhibition, public art projects, lectures, performances, films, and discussions.
The exhibition component of the project will focus on three contemporary artists Ruben Aguirre iROZEALb, and Jaque Fragua. The artists employ strategies drawn from street art practices and hip-hop culture within the context of fine art. The exhibition will uncover the tensions created when graffiti motifs are removed from lived, public spaces and realized into two-and three-dimensional forms. Themes addressed include: an examination the relationship between the self-definition inherent in the creation street art and the drive toward individual expression of Abstract Expressionism; the power of poetic insurrection within public spaces; and the creation of hybrid identities through cultural appropriations.
OPENING RECEPTION
Thursday, March 27, 4:30 – 6:30pm
IDEA Space in the Edith Kinney Gaylord Cornerstone Arts Center
---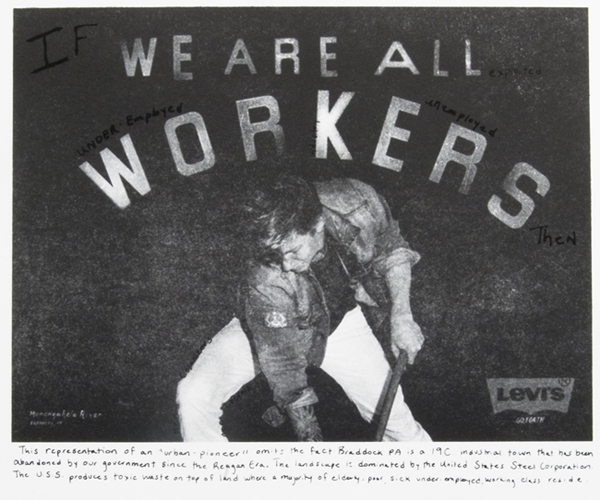 As part of the state-wide marking of the 100th Anniversary of the Ludlow Massacre - an event which sparked the modern labor movement - GOCA has invited six artists who address the concept of protest through their varied artistic practices.
Bradley Flora | LaToya Ruby Frazier | Scott Johnson | Lane Hall & Lisa Moline | Dareece Walker
Reception: Friday, Jan. 31, 2014, 5 - 9 pm at GOCA 1420 (The campus gallery at 1420 Austin Bluffs Parkway - parking is free after 4pm) Centennial Hall Room, 201.
Artist Talks @ 5 pm | Performance @ 7 pm
Exhibit Dates | January 31 - March 22, 2014
Historian Howard Zinn declared Colorado's historic Ludlow Massacre as "the culminating act of perhaps the most violent struggle between corporate power and laboring men in American history". As part of the state-wide marking of the 100th Anniversary of the Ludlow Massacre - an event which sparked the modern labor movement - GOCA has invited six artists who address the concept of protest through their varied artistic practices. Hailing from regional and national locales and contributing photography, mixed-media, video and performance works, the artists are, through their works, expanding upon an event that resonates heavily today in our cultural consciousness.
A multidisciplinary performance will take place in the gallery on Friday, January 31, at 7 p.m. titled "Resistance and Rebellion: Remember the Past to Carve the Future" featuring Ensemble Peak Frequency, the Ormao Dance Company, Psychoangelo, and vocalist Tim Eriksen performing works associated with acts of social and political resistance, rebellion and oppression. Read more about it - click HERE.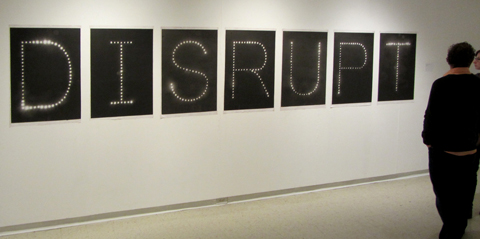 ---
Huge Hands: Coburn Exhibit by Andy Tirado
Andy Tirado, the 3D arts supervisor for the Colorado College art department, has sculptured a series of massive hands using a very appropriate CC material – reclaimed redwood from the deck outside the studios at Packard Hall, which houses the art department.
Tirado provides tech support for the art department, supervises the sculpture shop, and teaches a spring woodworking adjunct class. He also will be teaching sculpture at the Anderson Ranch in Snowmass this summer.
The four sculptures, all of which depict right hands (Tirado is left-handed; he uses his right hand as a model) are enormous – one is 13 feet long and weighs more than 300 pounds – and take up nearly all the space in Coburn Gallery, where they have been on exhibit. However, the huge hands, constructed from redwood, alder, and steel, all materials Tirado scrounged for, will soon be moved to make way for a new exhibit.
Check out the full article by Leslie Weddell at the link below:
---
Devotional Cultures: Spanish Colonial Art in the Southwest

Opening Reception and Gallery Talk
Wednesday, January 22, 4:30pm at IDEA Space
by Rebecca Tucker, Exhibition Co-Curator,
Jessica Hunter-Larsen, Curator of the IDEA program,
and Michael Howell Registrar and Collections Manager
at the Colorado Springs Fine Arts Center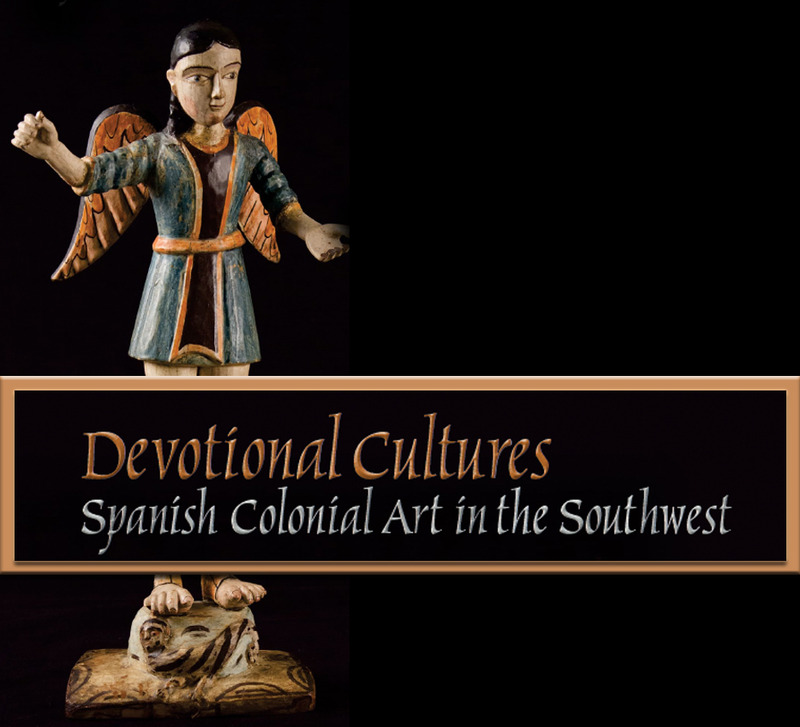 Devotional Cultures traces European Catholic imagery and ritual practices as they took root and evolved in Latin America, Central America, and the American Southwest. Featuring masterworks from the collection of the Colorado Springs Fine Art Center, the exhibition demonstrates that, rather than existing as copies of European art, Spanish Colonial artworks reveal layers of global influences and responses to those influences over time, resulting in a distinctive style.
Curated from the collection of the Colorado Springs Fine Arts Center by Michael Brown, Research Associate, Denver Art Museum New World Department and Rebecca Tucker, Associate Professor of Art History.
Devotional Cultures: Spanish Colonial Art in the Southwest is made possible by the generous contributions of the Sheffer Fund for Roman Catholic Studies, the Stillman Fund for Exhibitions, the Office of the President, the Hulbert Center for Southwest Studies, and the Colorado College Cultural Attractions Fund.
---
Carl Reed's work showcased. The Denver Botanic Gardens will be highlighting the artistic work of twelve Colorado sculptors in an outdoor exhibit entitled "Catalyst: Colorado Sculpture."
Opening May 4 at 9 am and running through January 12, 2014, the exhibition showcases the work of artists Emmett Culligan, Kim Dickey, Linda Fleming, Nancy Lovendahl, Terry Maker, Robert Mangold, Patrick Marold, Andy Miller, Pard Morrison, Carl Reed, Yoshitomo Saito, and James Surls, in cooperation with Goodwin Fine Art, Robischon Gallery, and the William Havu Gallery. Supporting the exhibition are UMB Bank, Colorado Creative Industries, and the Scientific & Cultural Facilities District (SCFD).
Today we regard the work of participating sculptor Carl Reed, Professor of Art, Emeritus at the Colorado College, who has just completed a sculpture titled Water Ring with Outliers, consisting of three separate elements created and placed specifically for a site in the gardens.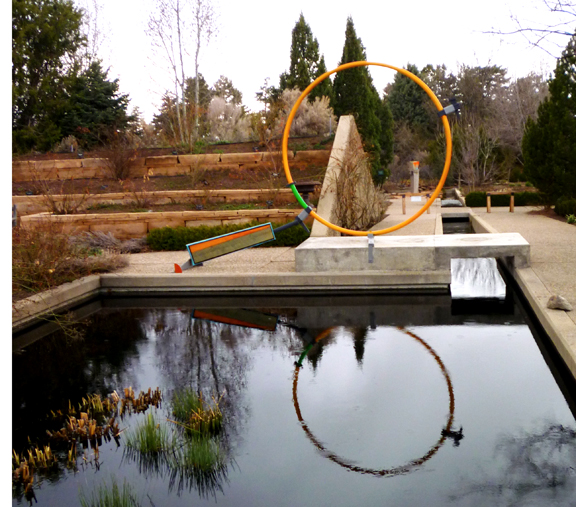 Check out the full article with pictures here
This is the Department of Art
Browse all Departments & Programs